What the papers won't tell you about the Oxley 26
Posted on:

11 January 2015

By:

Jennifer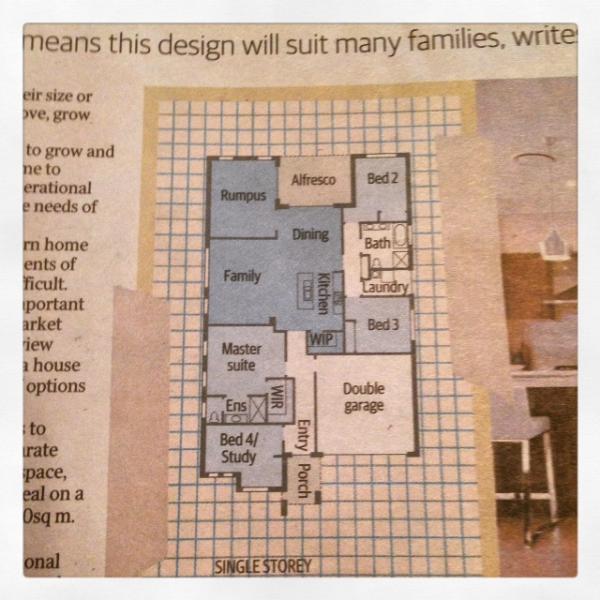 Yesterday I grabbed a copy of the Daily Telegraph's Home lift out included in the Saturday paper. I hadn't looked at this for a while so I thought it might be useful. Upon browsing I found all sorts of fun stuff including how to deal with a slopey backyard, a New York apartment decorated to the nines and a little piece on being at home with Jules Sebastian.
Another interesting double page spread was on a new home called the Oxley 26 by Casaview Homes. This article included quite a few glam photos of the display home as well as a small floor plan and description of the home in detail.
Initially I thought, well that's being done, so there is nothing I can add here. Then I got to thinking that there is actually a few other crucial things that any prospective purchaser really needs to know in order to make sure that this house is right for them.
So the what are these things?
-Land size
-Orientation
-Zoning (within the house, not in a planning sense)
-Base price
Land size
The overall dimensions of the house are included in the story. The width of house is 12.35 metres that would suit a minimum block size of just over 14 metres (assuming 900mm side setbacks). This plan wouldn't suit a block that allows you to build to the boundary which can be quite common these days.
Its length of 21.32 metres means the block depth would most likely need to be in the order of 30 metres to allow for both front and rear setbacks.
So you are looking at a block of around 14.5 x 30 metres to comfortably fit. This plan also would work better on a block of land in the middle of the street rather than on a corner block as there is nothing in this plan that would address the second street frontage.
Orientation
This house would work quite well if north was towards the rear of the house or even towards the left of the plan. This would allow winter sun to get into the alfresco area if it was from the back or into the family room if it was from the left.
If north was to the front of the house or to the left, however, this house could end up a little dark and the alfresco quite cold in winter.
Zoning
In this plan there are two places where a couple of extra doors could really help break up the space to help with heating and cooling. One is next to the Walk In Pantry to divide the main living area from the bedrooms and garage at the front.
The other is between the kitchen and dining to close off Bed 2 & Bed 3 from the living area.
These doors would not only help with heating and cooling but would also help reduce noise transmission to the bedrooms when entertaining guests. Something that be quite useful after the kids' bedtime.
Base price
The Base Price for this home is listed as $173,928. Whenever these prices are listed, you need to confirm just what is included. This can vary from builder to builder. Items such as window coverings, some floor coverings, light fittings and driveways are usually not included. Sometimes alfresco areas are also left as bare concrete. It's worth checking too, what facade inclusions are made and whether eaves are included. The other main item that is often missing from the base price is BASIX inclusions and while this is required by law, builders rarely include this in their base price.
So while this article is a good description of this house plan in an abstract sense, it is often the things that are not mentioned that could make a big difference to the comfort and liveability of this home.